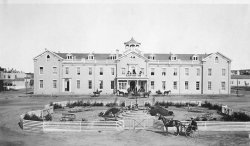 Photo courtesy of
San Diego Historical Society Research Archives Photograph Collection
Casa de Balboa, 1649 El Prado, Balboa Park CA 92101
Mailing Address: SDHS Photo Archives, PO Box 81825, San Diego, CA 92138
Telephone: (619) 232-6203 ext.127 Fax: (619) 232-6297
All photos are copywrited.
Warning Concerning Copyright Restrictions
All San Diego Historical Society photographs are protected by international copyright and are the exclusive property of the San Diego Historical Society. These images are not free and are not clip art. They should not be downloaded for any reason. To obtain reproduction rights and prices refer to the appropriate web pages or contact the Photograph Department directly.
The copyright law of the United States (Title 17, U.S. Code) governs the making of photocopies or other reproductions of copyright material. Under certain conditions specified in the law, libraries and archives are authorized to furnish photocopies or other reproductions of copyrighted works. One of these specified conditions is that the photocopy or reproduction is not to be "used for any purpose other than private study, scholarship, or research." If a user makes a request for, or later uses, a photocopy or reproduction for purposes in excess of "fair use," the user may be liable for copyright infringement. This institution reserves the right to refuse to accept a copying order if, in its judgement, fulfillment of the order would involve violation of the copyright law. The granting of permission to publish by the Society does not absolve users of materials from securing permission from copyright owners and payment of such additional fees as the owners may require if the Society does not own copyright or if the material is not in the public domain. Applicants assume all responsibility for questions of copyright and invasion of privacy that may arise in copying and in the use made of the photographic copy.